Professor's Profile
embedded
in
'Studies in Arts and Sciences'
[A Felicitation Volume in Commemoration of his Sixty-First Birth-day]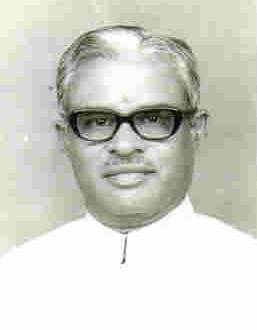 Prof N Subbu Reddiar – A Profile
Prof G Leelakrishnan
Thiru A Natarajan
A dedicated and distinguished scholar, an engaging and enthralling teacher, methodical and magnificent organizer and a tireless and tenacious erusader for Tamil, Dr Nallappa Reddiar Subbu Reddiar is basically a man of quiet academic pursuits, endearing modesty and abiding simplicity. Nevertheless, his professional career has been eventful and adventurous too.
Born on 17 August 1916 as the son of Gnani Nallappa Reddiar and Kamakshi Ammal in Perahambi in Tiruchi District, Tamilnadu, he learnt Telugu [his mother-tongue], Tamil and Arithmetic in the village pial school there. Soon after, Thiru VK Ranganathan Aiyer of Kottathur, his father's place, coached the boy privately and got him admitted in the Zamindar's Higher Elementary School, Turaiyur. Passing out creditably, he completed his school education in Board High School, Musiri with distinction. He had his collegiate education in St Joseph's College, Tiruchi and a secued a high first class BSc degree of the University of Madras. He joined the Teachers' College, Saidapet, Madras for his LT which he took in 1941.
Immediately, he joined the Zamindar's Middle School, Turaiyur as its first Headmaster. His ambition to upgrade the school was so compelling that he put in sustained and hard work and succeeded in raising it to a High School with a permanent building of its own and a well-equipped science laboratory even in those days when such facilities were almost rate; naturally the pupil strength of the school rose from mere one hundred and fifty to a spectacular eight hundred!
No wonder that his ability to organize soon attracted the attention of the sponsors of new high schools in Tiruchi District. At their request he willingly extended his valuable guidance in the establishment of three high schools nearby.

Intent on improving his qualifications, he persevered and secured by private study the Vidwan [Tamil Title in 1945], BA degree in 1947 and MA egree [Tamil language and literature] in 1951, all from the University of Madras. Having acquired the necessary qualifications, he justifiably now aspired to enter a college wehre he would have a wider and greater scope for his new talents. And very soon an opportunity presented itself in the form of an offer from authorities of the newly started Dr Alagappa Chettiar Training College, Karaikudi inviting him to be the Head of the Department of Tamil which he accepted in 1950.
He not only taught there to the complete satisfaction of the authorities and loving admiration of the students, but also organized the Department of Tamil and the Library of the college on sound lines. He served there with distinction for ten years. Though a full-time Professor, his capacity for, academic work was so large that he decided to do research during his leisure. But the rule of the University would not permit him to register for PhD. Yet he never give up the hope. Inspired by eminent Tamil researchers like Prof S Vaiyapuri Pillai, Thiru V Venkatarajulu Reddiar and Thiru BR Purushothama Naidu, he pursued his research. His papers and articles were well-received by journals and magazines and appreciated by scholars. It was during this period that his first book Kavignan Ullam was published.
Acquiring a PhD degree had, by then become almost an obsession and a challenge and no sacrifice in his opinion was too great for achieving it. Prof Reddiar resigned his comfortable job at Karaikudi and joined SV University, Tirupathi as a lecturer in Tamil for the Degree classes in 1960 incurring financial loss and losing even the domestic comforts. But even this lonely life he converted
to his advantage by utilizing the ample leisure at his disposal for writing a number of books in Tamil on literature, literary criticism, pedagogy, science, etc. In fact, this mental attitude is his characteristic forte. Prof Reddiar has written more than forty books covering various fields of knowledge.
Even after coming to Tirupathi, his attempts to get clearance from the University to register for PhD degree did not immediately get any favourable response, some technical hurdle or other being thrown in every time. After an agonizing suspense for nearly four years, he was at last permitted to register in the faculty of Sanskrit under the renowned Sanskrit scholar Dr V Varadachari. His thesis entitled Religion and Philosophy of Nalayira Divya Prabandham with special reference to Nammalvar not only was declared qualified for the award of the PhD degree in 1969, but also greeted as Prof Reddiar's magnum opus, so to say, a fulfillment, though a delayed one, of his long-cherished desire after a relentless pursuit.
His adaptation into Tamil of Heisenberg's Nuclear Physics got an award from the University of Madras [1958] and his books Rockettukal and Namadu Udal won the Government of Tamil Nadu awards in 1969 and 1971 respectively. The title of
Arunkalaikkon was conferred on him by the Tiruvannamalai Atheenam of Kundrakkudi in the Paari Festival held at Piranmalai in 1969.
While on one side he was working on his thesis for PhD he was also persistently attempting to create a strong public opinion in the University area in favour of starting the Post-Graduate Tamil Department in SV University through organizations like Pakala Tamil Cankam of which he was the founder and the Tamil Cankams of Chittoor and Guntakkal and through effective representations to appropriate authorities in person. Though for some reason the financial assistance promised by the Government of Tamil Nadu in1961 itself was not availed of by the University, the Tamil Nadu Government grant was at last obtained and the post-graduate course in Tamil was inaugurated in 1970.
Prof Reddiar from then on devoted his attention to organizing research activities. He himself started guiding research. Staff members and students commenced research in 1971 under his guidance both for PhD and MPhil. The credit for the successful completion of their research is very largely due to Prof Reddiar's sustained guidance. His own research papers both in English and Tamil have been published in journals of repute earning for him encomiums from distinguished scholars in India and abroad. His improved position and new stature in the academic world have enabled him to represent the University in many All India Conferences on Oriental Studies and Culture where his speeches are head with the attention and respect that they deserve. He presided over the Dravidic Studies Section of the All India Oriental Conference [28th Session] held in the Karnataka University, Dharwar, in November 1976. He was a member of the academic bodies of various Universities. A few of them have, in recognition of his scholarship in Tamil, invited him to deliver special lectures too.
The SV University Tamil Department can justifiably be proud of the seminars and symposia arranged by it with munificent assistance from the University Grants Commission obtained mainly on the initiative of Prof Reddiar. With his immense drive and foresight, Prof Reddiar not only had laid a strong foundation for the study of Tamil in SV University, but also has succeeded in getting prominent place for it in the map of Tamil Studies in the country.
It is largely due to his sincere endeavours that endowments for the award of two gold medals, St Tiruvalluvar Gold Medal and St Ramalingaswamigal Gold Medal were instituted out of collection from the philanthropic public.
Prof Reddiar is a happy synthesis of the classical and modern approaches to the study of Tamil. He can look with pride and satisfaction on the useful service he has rendered to Tamil and its development, particularly, at SV University. But he is not one who would rest on his oars.
As though the Muse of Tamil willed it, he was selected by the Tamil Academy, as Chief Editor to supervise and prepare the revised and second edition of the Tamil Encyclopedia. We congratulate not only Prof Reddiar on his new assignment, but also the authorities of Tamil Academy particularly Thiru TS Avinasilingam on their quick recognition of Prof Reddiar's fitness for the post of Chief Editor. Endowed as he is with an alert mind, active intellect and agile body, we are sure that he will make a splendid success of his new assignment. We wish this Arunkalaikkon long life and good health.